Why You Need a Fitness Routine
1. Increases testosterone. Testosterone is what makes men, men. Unfortunately, most young men have lower testosterone than their grandfathers did because of changes in diet, activity levels, and chemicals in our environment, water, and food supply. The benefits of optimal testosterone levels are numerous. Besides increasing your libido, testosterone does the following:
increases mental and physical energy
boosts happiness (men with low-T often suffer depression)
increases competitive drive
helps prevent Alzheimer's and dementia
increases muscle size and strength
Compound weight lifting exercises like squats, bench press, cleans, and deadlifts are great testosterone boosters. High intensity exercises, like sprinting, have been shown to boost testosterone levels as well.
2. Good for your brain. If you want to be a stellar college student, you need to hit the treadmill in addition to hitting the books. Studies show that regular exercise speeds learning, improves memory, and promotes clearer thinking.
3. Increases your willpower. We've talked about the importance of willpower in our success as men. One way to strengthen it is to make regular exercise a habit. Working out will increase your discipline in all areas of your life.
4. Reduced health costs. Health costs are ballooning here in the U.S. because of the rise of obesity and obesity-related diseases like diabetes, heart disease, and hypertension. While proper diet plays the biggest role in preventing obesity, regular exercise can help stave off weight gain and improve how your body uses insulin so you don't get diabetes. A regular fitness routine has also been shown to reduce blood pressure and improve heart health. If you don't want to spend a small fortune treating these ailments in the future, get in the gym today. Not only will you reduce your own health care costs by being physically fit, you can take some manly pride knowing you're not increasing costs for your neighbors and fellow citizens.
5. Relieves stress and depression. We're going to go into more detail about managing stress next week, but one thing you can start doing today that will go a long way to keeping you chill like The Dude is to exercise. It releases endorphins in your brain, improves sleep, and can relieve feelings of anxiety and depression. Exercising regularly is truly one of the most important things you can do to stay sane during college.
6. Makes you physically attractive. Your physical attractiveness can play a big role in your personal and professional success. Women are more attracted to men who are fit and in shape. Men who are physically attractive often report higher incomes and more job promotions than men who are less attractive. Exercise can help mold a physique that will make you attractive to others, and even more importantly, boost your confidence in yourself.
Establishing an Exercise Routine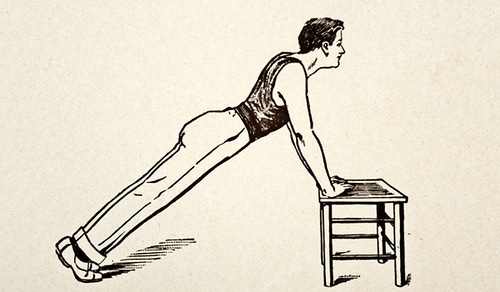 A lot of men know it's important to exercise, but end up feeling lost as to what to do for their workout. There are so many opinions out there as to what the "best" workout is that you can end up feeling overwhelmed and not doing anything at all. When I'd go to the gym at OU, I'd often see guys just kind of wandering around aimlessly, half-hardheartedly doing a few bicep curls and tricep extensions.
In truth, at least in my opinion, unless your fitness goal is to get super shredded or have a bodybuilder's physique, you shouldn't stress about finding the "perfect" workout. Instead, focus on improving your overall strength and fitness with a routine that's as simple as possible – one you will enjoy and do consistently. The most important thing is to do something, anything, to move your body every day!
Below I suggest two exercise routines that are perfect for a young man who is busy, but is looking to maximize results. One requires access to a gym and free-weights, while the other consists solely of bodyweight exercises.
1. Starting Strength
My favorite workout routine is the Starting Strength by Mark Rippetoe. It's fast (workouts take about 40 minutes), you don't need much equipment, it produces great results, and it's very doable for a beginner who's new to lifting. I also like it because it's similar to the strength training program I did as a high school football player. I'm stronger and leaner than I've ever been since starting Starting Strength.
You an find the breakdown of the program at Starting Strength.
2. Bodyweight Workout
This bodyweight program is one I do sometimes when I can't or don't want to go to the gym. It works your entire body and can be done anywhere. The only equipment this routine requires is an Iron Gym Pull-Up Bar that you can place in any doorframe and which doesn't require you to drill any holes. Even if you plan on going to the gym regularly, buying an Iron Gym Pull-Up Bar is a great investment for any young man. Make it a policy to crank out a few pull-ups each time you pass through the doorframe from which it hangs. Even if you can't swing an Iron Gym bar, I'm sure you could find a tree branch or another bar that could be used for pull-ups.

This is a circuit program, meaning you do each of the exercises back-to-back without any rest. When you've completed all the exercises, you've completed one circuit. The exercises link to how-to videos for those who haven't done them before.
Squats: 20 reps
Push-ups: 10 reps
Hindu push-ups: 10 reps
Walking Lunges: 20 reps
Pull-ups: 5 reps
Dips: 15 reps
Do a ten minute warm-up first (jumping jacks, jump rope, jogging), and then complete each exercise back-to-back without resting. That's a circuit. Rest for two minutes after completing a circuit and then start another one.
Start with one circuit, and then add a circuit once you're able to perform all the reps for all the exercises. Keep adding circuits until you can complete all the reps for all the exercises for five circuits. After that, start adding 1 rep to each exercise at each workout.
Perform this workout every other day, three times a week. Here's a suggested schedule:
Monday: Bodyweight workout
Tuesday: Sprints or plyometrics
Wednesday: Bodyweight workout
Thursday: 5K run
Friday: Bodyweight workout
Saturday: Rest
Sunday: Rest
Whatever workout program you choose, the key is to be consistent with it. Treat your workouts like an important doctor's appointment. When you plan your week, block off a time each day for exercise.
You should also look for ways to incorporate exercise into your everyday life – walk and bike to campus when you can, join an intramural team, play some pick-up games of ultimate Frisbee with your buds, and take a date on a bike ride. Establishing a habit of regular exercise – both at the gym and throughout your day — will reap enormous benefits for the rest of your life.